Travel in Asia
Despite a heavy mission workload successfully undertaken in the eastern states over the next six years [from 1877], Woods' scientific output was prolific and his reputation as an eminent colonial scientist grew.
In 1883, with offers of mission work declining, he accepted a British Government commission to examine thoroughly the geology of the Malay Peninsula. For the first time, science became his sole source of income.
To an old friend he reflected candidly on his motives: 'Well love of science has something to do with it and a life of travelling and adventure, but…I dare say too I had grown rather weary of trying to do good in another way in the face of so much unkindness, hard usage and is it too much to say envy and bitterness?' [1]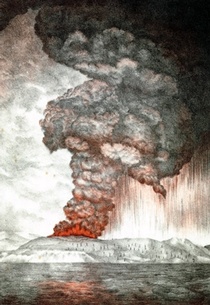 Woods spent a month in Java after the eruption of Krakatoa and saw the sea strewn with human corpses: 'Some got foul of the screw of our steamer, and the stench was perfectly horrible.' [2]He reached Singapore in October 1883 and conducted his scientific investigations throughout the Malay Peninsula over the following twelve months. In Perak five elephants were placed at his disposal, as well as ponies, orderlies, and a Chinese Christian servant who served daily Mass for him.
He also explored Borneo, Malacca, and the Philippines for the British Admiralty. The accurate information he provided about 'the coal resources of the Eastern seas which might become available in time of war [with Russia]…increased the strength of the English navy in that part of the world, by a force better than half-a-dozen good-sized frigates.' [3]
Woods travelled extensively in China and Japan before returning to Port Darwin in June 1886 after almost three years in Asia.
Penola – Ten Years in the Bush and Beyond exhibition text: Margaret Muller, Mary MacKillop Penola Centre, 2000
References
1. Woods, Letter to Archer, Perak, 17.9.1884
2. Woods, Letter to Terence Woods, Singapore, 5.10.1883
3. MacKillop quotes this, Julian Tenison Woods A Life, p20