Botanist
Although primarily a geologist and palaeontologist, Father Woods was widely recognised for his competence in other areas of science including botany.
Within six months of his arrival at Penola in 1857, he began collecting plants for the Victorian Government Botanist, Dr Ferdinand von Mueller, and kept specimens for the small but significant botanical garden he subsequently developed.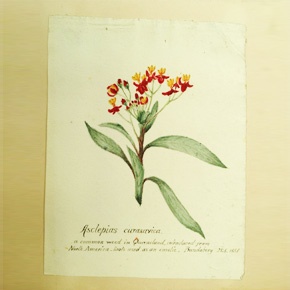 Mary MacKillop commented in her biography of Woods that visitors to Penola 'were delighted with the many specimens of stone he possessed, as well as with his beautiful garden where choice and rare shrubs flourished around the stone church of St Joseph. These beautiful plants and shrubs had been brought many a mile and much care was bestowed on them…'
The 1998 garden laid out in Woods' memory on the original site, contains many of the native specimens he described comparatively in the botanical remarks included in his pioneering Geological Observations in the South East of South Australia (1862), as well as others he would have collected.
Botanical fossils form part of the Woods Exhibition. There are also comprehensive lists of botanical specimens he collected, which have been held by the State Herbarium of Victoria since their purchase by von Mueller after Woods' death in 1889.