Guided Coach Tours
This tour of the Penola township and immediate environs, with historical and literary commentary along the way, covers places that were familiar to the many outstanding people who have lived here.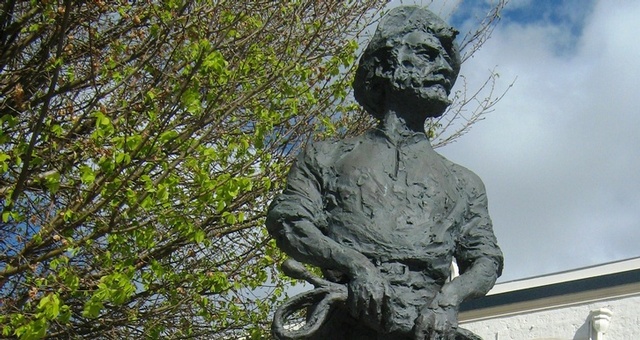 As well as Mary MacKillop and Julian Tenison Woods these include Alexander Cameron, founder of Penola, and other pioneering men and women; poets Adam Lindsay Gordon, Will Ogilvie, John Shaw Neilson and Peter Goldsworthy; John Riddoch, who founded Coonawarra; Australian inland explorer, Lawrence Wells and polar explorer John Rymill.
Our visitors appreciate the overview provided by the tour and we recommend its being taken before you view our exhibitions, although afterwards is fine if that better suits you.
Duration:
30 to 45 minutes, depending on time available. Greenrise could be omitted.
Cost:
$4.00 per person
Itinerary:
An itinerary for a guided coach tour that starts and finishes at the Mary MacKillop Penola Centre. Tour is done in your own bus which must have a microphone.

Portland St

Schoolhouse; St Joseph's Catholic Church and Shrine; Mary's Uncle Donald and Aunt Eliza McDonald's cottage

Riddoch St

Old hospital; Cobb & Co; Tregenza Gallery; former Methodist church; old telegraph station

Greenrise Swamp

Recreation area and arboretum just out of town on crown land adjacent to Alexander and Margaret Cameron's station where Mary MacKillop was governess to her cousins. The Picnic Races were held there.

Church Street

Old post office; National Bank; State Bank; Royal Oak Hotel; bronze statue of Alexander Cameron; National Trust footpath plaques; art galleries & bookshops; Westminster Abbey bronze bust of Woods' friend, Adam Lindsay Gordon, at Penola Poets' Corner

Arthur St West

St Mary the Virgin Anglican Church; Anglican hall

Bowden & Queen St

Mary MacKillop Stable School Park. Mary's 1866 home, Winella cottage, was in nearby Clarke St

Arthur St East

War Memorial Park; Mechanics' Institute, now the Penola Coonawarra Visitor Information Centre (with its local history collection & exhibition, and Neilson Art Prize exhibition); St Andrew's Presbyterian Church; former Foresters' Hall

Petticoat Lane

Heritage precinct. Woods MacKillop Schoolhouse. National Trust cottages: Gammon, Wilson, Neilson (site only), Davidson and Sharam, with herb & vegetable garden
An extended itinerary, by arrangement, could include:

Old Cemetery

This and the new cemetery near Greenrise are of historical interest

Coonawarra

Its geology was described by Woods in 1862

Limestone Ridge

Father Woods Sculptures Park, near the old red gum that bears his name

Old Cemetery

This and the new cemetery near Greenrise are of historical interest
We have also visited

Naracoorte Caves

Described by Woods scientifically and MacKillop anecdotally. World Heritage listed