MacKillop Stable School
In 1850 Mary's uncle, Alexander Cameron, purchased the freehold title to 80 surveyed acres on his run to establish the private township of Penola and in 1859 William McDonald purchased Lot 58 on the corner of Queen and Bowden Streets, on which he built a six-stalled stable.
Mary returned to Penola from Portland in 1866 and this stable, rented from him and renovated by her brother, John, became the first St Joseph's School, which was opened for over 30 pupils by St Joseph's feast day on 19 March.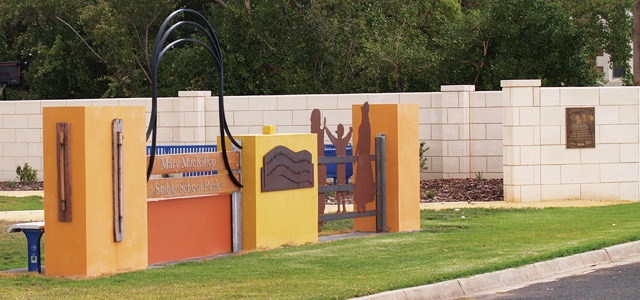 On that day Mary donned the simple black dress that denoted her intention of devoting her life to God through service to the needy.
The land remained in the McDonald family until sold to the Sisters of Saint Joseph in 1925, by which time the stable had been demolished and some of the timber taken to Kalangadoo for a chook house. Goats and cows grazed on the site and in the 1970s the Penola District Council established a garden there, the maintenance of which was later taken over by the Wattle Range Council.
In October 2012 the first stage of the Park's redevelopment was completed, with designer Peter Templeton working through a committee comprising representatives of the Archdiocese of Adelaide, the Sisters of Saint Joseph, Tourism SA, the Mary MacKillop Penola Centre and Wattle Range Council.
It is a park for pilgrims to pray and reflect on Mary's words, for families to picnic, for children to play. She would be pleased.