Volunteers thrilled to meet Prime Minister Tony Abbott
March 15, 2015
Mary MacKillop Penola Centre's dedicated volunteers were thrilled to meet the nation's Prime Minister on 11 March 2015. He praised the group for their ongoing work promoting Australia's first saint of the Catholic church.
Prime Minister Tony Abbott and Member for Barker, Tony Pasin set aside time on the 2 day visit to Mount Gambier to receive the Committee and Father Paul Gardiner SJ. who was Postulator for the Cause towards sainthood.
They discussed Mary's legacy as a pioneering woman in the South East during a time when the role of women in society was very different from today. Mr Pasin said the experience was very informative and enjoyable.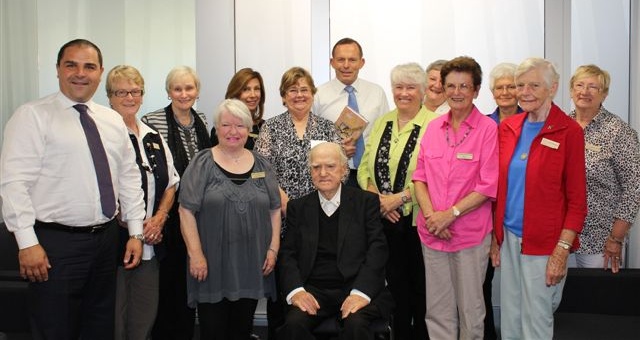 Pictured are: Tony Pasin MP, Margaret Hanel, Judith Georgeson, Anne-Marie Matuschka, Marie Valenzuela, Josie Gibbs, Prime Minister Tony Abbott, Father Paul Gardiner SJ, Margaret Muller, Sr Sue McGuinness, Claire Larkin, Sr Loreto O'Connor, Anne Petersen, Mary Cram.