Launch of Marg Mullers book on Father Paul Gardiner
September 6, 2016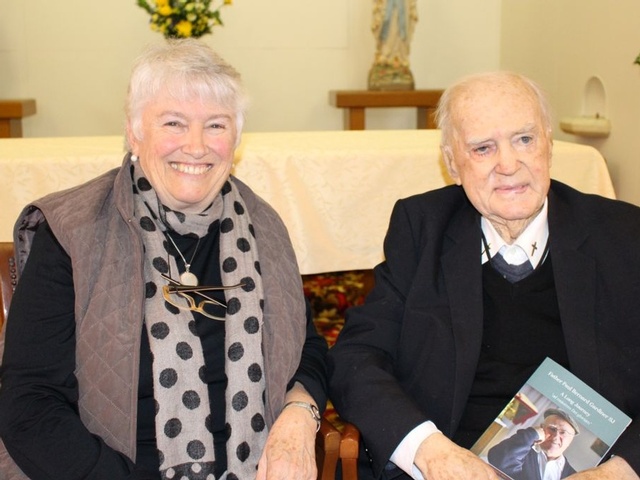 Margaret Muller, local historian, had spent the last six years researching, interviewing and writing the story of Father Paul's life as Jesuit priest, pastor and postulator for the cause of St Mary MacKillop. Her skilful integration of the words of her subject with her own observations and research have resulted in a comprehensive record of the life of this dedicated priest. In "A Long Journey 'ad maiorem Dei gloriam'" Margaret captures the life of an intellectual who places his gifts as Jesuit priest at the service of his Congregation, the Universal Church and the community of Penola.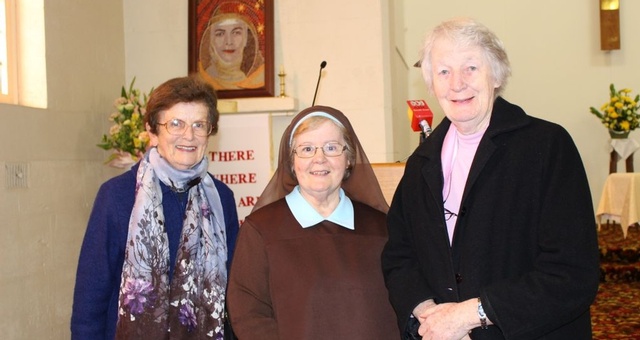 Sister Maria Casey rsj  (on right) officially launched the book and used the apt metaphor of the midwife to describe Margaret's labour of love in bringing the book to birth. Father Paul, fired with enthusiasm and mustering up some hidden energy especially for this occasion, captivated the audience with his lengthy response and expressed his delight and gratitude on this auspicious day. He recalled in particular the overwhelming emotion he experienced when he stood in St Peter's Square and sighted for the first time the image of St Mary MacKillop prominently displayed before the world.  Some of the steps along the way to that experience were also recalled with his unique insights into the complexities of "the making of a saint."
The occasion was more than the celebration of the long journey of Father Paul's life. Right on cue, Bishop Greg O'Kelly arrived from Port Pirie via light aircraft, attired in his Jesuit habit, to speak with wit, yet deep respect, about his former teacher. Father Paul's Jesuit brothers from Adelaide, Fathers Paul Mullins and Ron Daveron, were also present, having travelled the long journey from Adelaide. Father Dean Marin from Mt Gambier and parish priest, Father Peter Fountain were also among the special guests.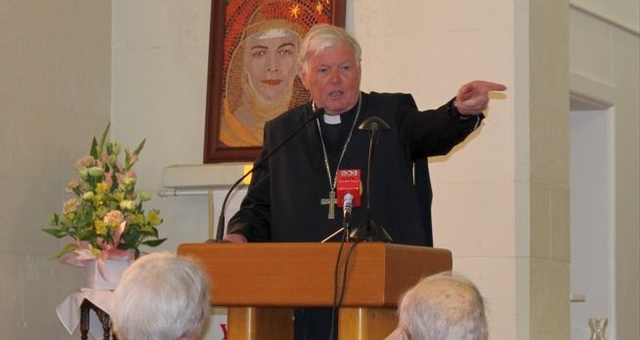 It was a great delight to Father Paul to have present his youngest sister, Annette, and his niece, Sister Rosemary Maloney, osb, a Carmelite sister from Kew in Victoria. Other members of his family included his nephew, Dr Peter Maloney and his grand nephew, from Sydney.
Bishop Greg concluded the formalities by blessing Father Paul and Margaret, a very fitting way to acknowledge a long life lived 'ad maiorem Dei gloriam. – for the greater glory of God.'
A light lunch was served in the Mary MacKillop Interpretive Centre and was enjoyed by an appreciative group of guests and parishioners.
Sr Sue McGuinness rsj