First Year Seminarians Annual Visit to Penola
June 15, 2013
The Corpus Christi College first year seminarians made the annual visit to Penola on the 15th of June.
After an overnight stay in Hamilton, they made a visit to Portland and Mount Gambier on the way to Penola for a two-day stay.  They visited the Interpretive Centre and enjoyed a town tour given by Anne-Marie Matuschka  a local historian and centre volunteer. On Sunday, they attended the local Mass at St Joseph's followed by a barbeque lunch at the Interpretive Centre.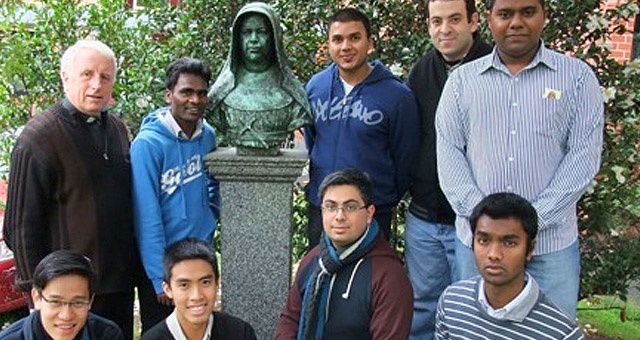 Standing with the Rector, Fr Brendan Lane, are the 8 first year seminarians (6 Melb; 1 Bendigo; 1 Sale).  The picture was taken next to the bronze bust of St Mary of the Cross at the seminary in Melbourne just prior to their departure on Friday 14 June.
Fr Michael Willemsen accompanied the group and commented, "As always, we received wonderful hospitality there and enjoyed the personal testimony of Fr Paul Gardiner."
The students are now enjoying a two-week break in between semesters.