140th Anniversary of the Death of Fr. Patrick Kehoe
August 15, 2019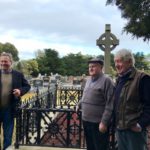 Father Patrick Kehoe, an Irish immigrant, was ordained in Adelaide in 1872 and was appointed Parish Priest of Penola five years later. Sadly his ministry in Penola was short-lived as he met with a tragic accident only two years later. Despite the fact that he was described by Father Davis as an "accomplished horseman", he was violently thrown from his horse and died a short time later.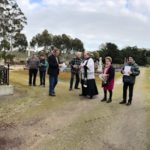 Thirteen years after Fr. Kehoe's burial at the Penola cemetery, the local reporter to the South-Eastern Star reported in the edition of 29 September 1882 that "A handsome monument has been erected at the new cemetery over the grave of the late Fr. Kehoe. …"   Again, in 1924 it is recorded that "… the monument was repaired and redecorated by the Catholics of Penola 18 months ago."
In 2019 the latest repairs and renovations to Fr Kehoe's grave have been completed by the Penola Knights of the Southern Cross. Many hours of work were undertaken and the project was greatly assisted by a generous donation from Father Sean McGearty. Fr. Sean visited the grave of his fellow country man recently and expressed deep satisfaction at the work that had been completed.
Fr Sean McGearty arrived in Adelaide from Ireland in 1958. Six decades later he is the last Irish priest in the State.
Father Michael Romeo blessed Father Kehoe's restored grave on Friday, 30 July. He acknowledged the generosity of Fr Sean McGearty and the Knights of the Southern Cross.   A group of Penola parishioners and some of Penola's Knights of the Southern Cross attended the ceremony.