A Virtuous Life -Book Launched in Penola
March 5, 2019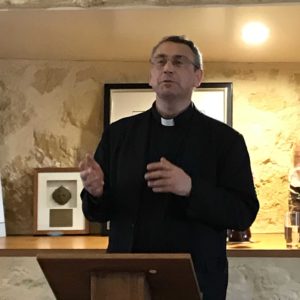 It was most appropriate that the Mary MacKillop Penola Centre was chosen as the site at which the book "The Virtues of Saint Mary of the Cross MacKillop" was officially launched. About thirty five local residents and visitors to Penola gathered on Friday evening, 1 March, to celebrate the publication of the third volume of Father Paul's The Life of Saint Mary MacKillop 1842 – 1909, which, until now, had not been published.
Father Peter Joseph is a priest of the diocese of Wagga Wagga. Father Paul taught him Latin while he was a student at Riverview College, Sydney. He again met Father Paul while he was in Rome when the latter was writing his major biography of Mary MacKillop for the Cause of her canonisation. They became good friends. Father Peter recalled how he was invited by Father Paul to proof-read the 1600 page Positio in instalments. This took place over a period of five years. He looked forward to each instalment because he found the story of this heroic woman's life completely enthralling.
In an engaging, at times witty and proficient presentation, Father Joseph unpacked for his audience the contents of this publication. Father Paul had demonstrated how Mary MacKillop lived the theological and cardinal virtues to an heroic degree, thus earning her the title of Saint. His scholarly exposition was reminiscent of the erudite Father Paul and indeed his admiration for this young Australian woman, who battled against all odds and yet lived heroically and virtuously, was evident.
The publication of this book by Father Peter Joseph makes Saint Mary of the Cross very accessible to us. The reader is brought closer to Saint Mary because we are able to explore the depth of her spirituality and gain greater insights into the mind and heart of this woman whose constant desire was always to do the will of God.
Volunteers and friends of the Mary MacKillop Penola Centre provided warm, welcoming hospitality and the delicious refreshments were enjoyed by everyone.